Healthcare Facilities Management
Always On Call
Emergency Power Service When and Where You Need it Most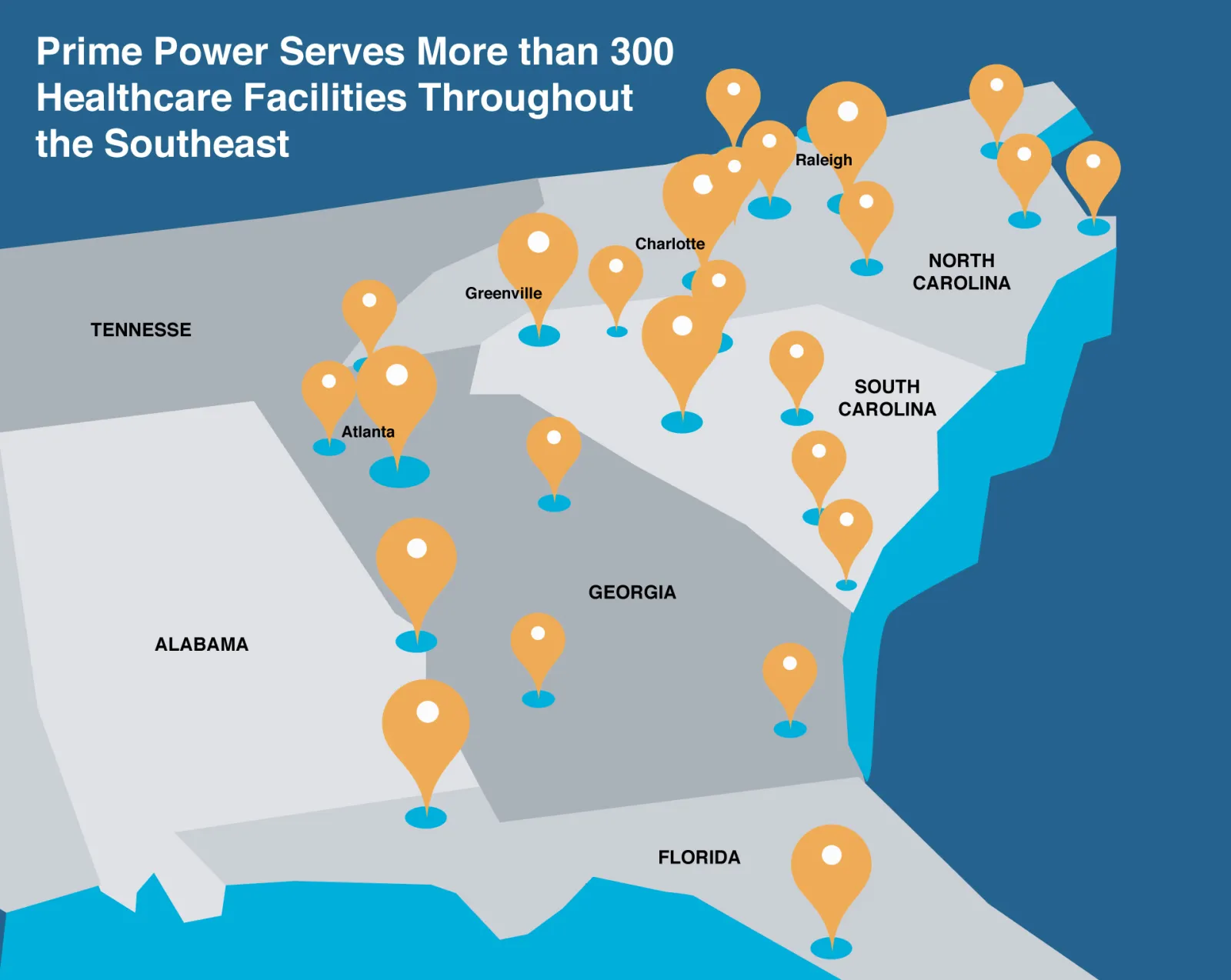 Prime Power keeps critical life-saving equipment and the lights on at healthcare facilities across the Southeast. We're the region's most trusted partner for emergency power supply service, generators for hospitals and preventative maintenance, powering more than 300 different healthcare facilities.
Our clients include ambulatory surgery centers; assisted living, rehabilitation and nursing centers; dialysis, outpatient and pediatric clinics; hospice care, hospitals, laboratories, medical warehouses, memory care, retirement communities, urgent care, and wellness centers. When your hospital's power goes out, you can still provide quality care for your patients. We offer a wide range of generators for hospitals, including portable and on-site, to provide backup power for hospitals when the grid goes down. We serve facilities throughout the Southeast, including Alabama, Florida, Georgia, North Carolina and South Carolina.
"Without power, healthcare facilities can't provide the life-saving treatment for people who need it."

- Alice Adams, Prime Power Director of Training & Advancement
Emergency Power Supply Systems Service
The world of healthcare and medical power solutions is evolving daily as various issues strain our care centers, infrastructures, and frontline workers. It's imperative to keep operations running smoothly and people protected during these unprecedented times. Prime Power keeps your healthcare facility fully functioning as we navigate these vulnerabilities, and we understand what's at stake if a crisis occurs.
For more than 40 years, our team of engineers and expert technicians have provided unparalleled emergency power service to keep your facility, teams, and patients safe. Our generators for hospitals are designed to provide uninterrupted and reliable power to your critical care areas including emergency rooms.
Are you accredited and compliant? Prime Power can help with any EPSS compliance concerns.

Equipment failure is one of the leading causes of power outages in medical facilities. While an emergency power system is used infrequently, routine maintenance is critical to operating properly in times of crisis.
Your emergency power system isn't a "set-it-and-forget-it" device. Annual accreditation and regulatory requirements include regular maintenance, which prevents disruptions in service, prolongs the life of your system, and avoids catastrophic failures.
The Prime Power Preventive Maintenance Program includes robust service routines for generators, transfer switches, and switchgear that help ensure system longevity and optimal performance. We also offer a full range of services and specialties to support your healthcare facility's power systems and unique emergency power supply system (EPSS) needs.


EPSS Planning: What to Do if Your System Fails
It's imperative to have an emergency power plan when managing a healthcare facility. In times of energy crisis, critical operating room equipment, life-support devices, HVAC systems, computers, and lights need to stay on.

Planning basics include:
Arranging for alternate power sources

Educating staff on how to use backup systems

Labeling equipment properly and creating clear instructions

Knowing what to do once power is restored

But the most important factor is partnering with a trusted service provider who will respond quickly to keep you up and running. Prime Power was built on a foundation of hard work, high morals, and great expectations. Prime Power has emergency generators for hospitals that can provide the power you need to keep your patients comfortable and your doctors working. We insist on the highest level of integrity at every step of every job — that's why we have a 95% customer retention rate.