Prime Power Training
A leading emergency power provider for more than 35 years, Prime Power delivers the region's top emergency power system services (EPSS), standby generator training, and EGSA certification. Our independent, non-proprietary programs blend course work with hands-on experience taught by the most knowledgeable experts in the industry.
Our training offering includes in-person EPSS seminars at our Roger Bisher Training Center; on-line self-paced certification courses, including EGSA prep; on-demand virtual learning; apprenticeship programs; and customized programs to meet an enterprise's specific training needs.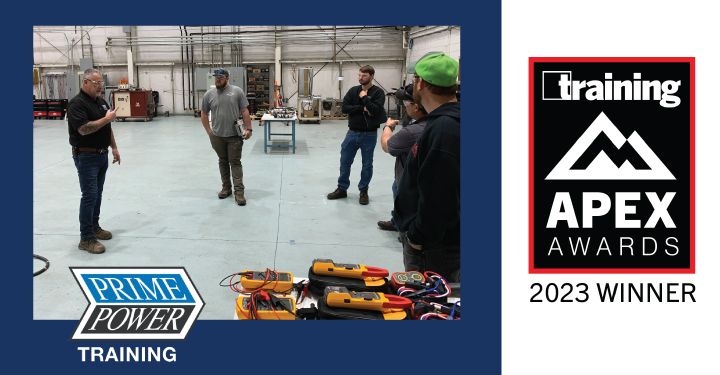 Prime Power Wins APEX Training Award
NEW Big news! Training Magazine has named Prime Power a winner of the 2023 Training APEX Award for excellence in employer-sponsored training and development programs. Prime Power's emergency power-focused in-person and online programs are being celebrated alongside 104 fellow providers, including household names like Cardinal Health, CarMax, CVS, Greystar, Kraft Heinz, and Union Pacific Railroad.

"The passion for learning and development burns brightly in the 2023 Training APEX Awards organizations," notes Training Editor/Publisher Lorri Freifeld. "We salute these best-in-class organizations for their ability to consistently and agilely deliver stellar training in an ever-changing world while providing a culture that allows their people to grow and thrive at work."
Rankings for the awards will be announced at a black-tie gala in Orlando on February 13.
"Advanced training is one of the smartest career moves you can make. Our society is built upon a need for electricity. It is an essential business. It's pandemic proof. It's nearly recession proof, and you can take your skills anywhere in the world and find employment."



Prime Power President, Adam Mathes
Course Catalog
All programs are available to individuals and organizations.
Prime Power Online Learning
Best-in-class emergency power digital training
Your Independent Training Partner
The state-of-the-art Roger Bisher Training Center located in the heart of Georgia, just outside Atlanta, features top technology for in-person courses, including hands on training, seminars, and certification in Electrical Generating Systems Association (EGSA) standards and accreditation by the Institute of Electrical and Electronics Engineers (IEEE).
Most seminars and onsite courses provide credits for state license certifications, including Georgia Water and Wastewater Institute (GWWI), Georgia Secretary of State, North Carolina Environmental Certification Board, and South Carolina Environmental Certification Board.
In-Person Training
A full range of seminars taught at our training center combine engaging lectures with hands-on lab training. You work with equipment and tools comparable to what you'll use in the field. Onsite training at your business is also an option, where we send our elite EGSA certified trainers to teach you how to properly troubleshoot, manage, and maintain your own equipment.
Certification
Prime Power's self-directed online preparatory training offers innovative and engaging eLearning courses as preparation for EGSA certification. Additionally, you can include one-on-one training and certification prep with one of our highly qualified trainers, which includes both EGSA certification prep and EPA certification prep.
Online Learning
Many of our in-person training and certification programs are now available online. Prime Power virtual learning combines deep field expertise with adult learning expertise. We offer the best online learning classes for technicians in the industry. Courses are designed for ease and accessibility: You don't need extensive digital experience to participate. You only need a computer and a passion to learn and improve your future. Prime Power offers the best online courses in emergency power & standby generator training. We have the knowledge and experience to help you learn how to do the job right—online.
Custom Training Solutions
We regularly create custom training programs to meet the unique needs of our clients. We'll work with you to create the best, most cost-effective solution for your training requirements.
Learn how we created a customized, comprehensive training program for Entech, a fast-growing company that provides a variety of building and maintenance services to businesses throughout Texas.
Roger Bisher Training Center