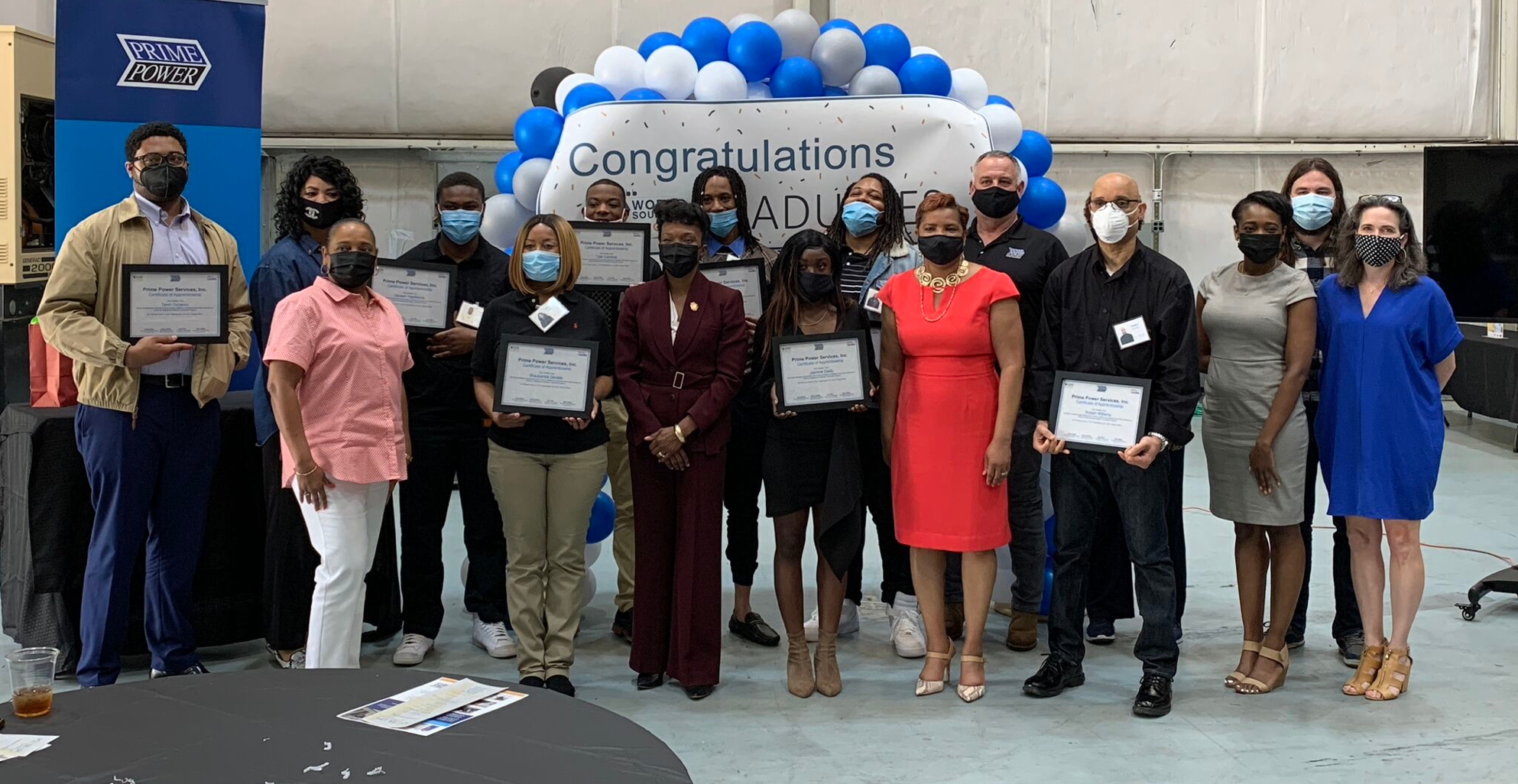 First POWER Up Class Completes Apprenticeship Program
Last week, eight hardworking students graduated from the first-ever POWER Up Apprenticeship program sponsored by Prime Power, WorkSource Cobb and Atlanta Career Rise.
The program, which began in January, took students through the basics of emergency power systems and maintenance operations. It combined classroom learning, mentoring and hands-on training with Prime Power's Tom Wein. The course also included work on soft skills, job search, interview techniques and more, taught by WorkSource Cobb's Donna Robinson.
Power UP was created to give underserved job seekers — including people of color, women and veterans — access to high-demand skills training that could open up opportunities for long-term employment.
"I am full of gratitude for the opportunity this program gave me," said ShaJuanda Daniels, one of the Power UP graduates. "The on-going support through mentoring, class structure and instructor expertise motivated me to keep learning. I was provided every tool to become successful."
The ceremony featured remarks from Cobb County Commissioner Monique Sheffield and Chairwoman of the Cobb County Board of Commissioners Lisa Cupid.
Graduates included:

Quarvoisier Burks

ShaJuanda Daniels

Jasmine Davis

Tyler Edmond

Daveon Hawthorne

Tevin Tichenor

Robert Williams

Ruben Williams

"We're honored to have partnered with WorkSource Cobb and Atlanta Career Rise on this important program," said Prime Power President Adam Mathes. "I'm excited to watch this first class of apprentices as they embark on new, fulfilling careers."

Learn more about the Power Up initiative.